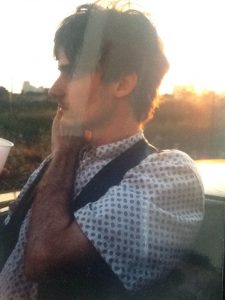 Portrait of the Writer as a Young Raver
I began my career as a professional writer with an internship at The Trentonian in 1989. There, I published a profile on a young actor in the city, which gave me my first taste of communicating to an audience outside of my high school. However, throughout my youth, I focused on marginalized cultures and movements. To illustrate my early ambitions, the three media outlets I aimed towards were High Times, Soldier of Fortune and Screw. To me, these publications pushed freedom of speech to its limits. Therefore, I felt they would offer me the most freedom in terms of lifestyle and creativity in pursuing my profession. While I never wrote for S0F, I did meet Screw editor Al Goldstein briefly. And after a successful pitch to music editor Steve Bloom, I began a professional relationship with High Times which lasted the better part of two decades.
While I attended graduate school at the University of Baltimore, I pursued a freelance career in national music journalism. During this time, I achieved an expertise in electronic dance music coverage. If you were looking to establish a beachhead in the United States, chances are you would eventually speak to me. It was a uniquely exhilarating period of my life, culminating to my move out to Los Angeles in 1998 and a position as interactive writer for the online television network den.net in 1999.
The New Century
I moved back to New York City, where I had previously attended college, in 2000. During this year, I worked as a content provider for KnowEx Solutions and later as an assistant editor for MCY.com. In 2001 I moved back to Los Angeles. Once I returned, I expanded my portfolio with longform features for the Los Angeles Times and marquee interviews for High Times.
During this time, the regulated cannabis industry grew throughout the world. Building on the work I did for High Times, I shifted my efforts towards gaining expertise within it. Here, I saw an opportunity to end my self-imposed professional exile. That led to my interview with Vicente Fox (read part one and part two here) for High Times. I also scored a piece for The Daily Beast on the woes of Nestdrop, a hybrid alcohol/cannabis delivery service.
I am currently wrapping up work on a ghostwriting project and writing a "photonovel" which explores what I call a "political hauntology." And yes, I still live in California, and will for as long as Trump remains in office.